Metabo Power Tools

Home

Products » Metabo Power Tools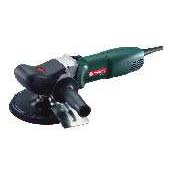 We provide over 200 models of
Metabo Power Tools
for almost every conceivable application such as Metal, Wood, and Concrete work. We are acknowledged among the most reliable Suppliers of Metabo Power Tools. These Metabo Power Tools are appreciated all over the world for longevity and superior performance. The Metabo Power Tools are made available at competitive prices.
What We offer?
Various (V) – Electronic : The tools speeds are infinitely variable allowing you to select extremely low speed of the maximum speed. The tools speed decreases as the load placed on itincreases. The lower the selected speed, the sooner the machine will come to a stop.
Vario-Tacho-Constamatic (VTC) full-wave electronic speed control : the speed can be adjusted progressively from a very low level up to maximum. The speed at rated load, even under especially heavy conditions & very low selected speed, remains the same as no-load speed.
Metabo CODE! System : Metabo tools can be loked with an electronic anti-theft system to protect them from misuse. When the machine is locked, it can not work, and therefore of no use to poten tial thieves. The entire set of Metabo tools (equipped with CODE!) can be profited with a single CODE! Key.
Electronic winding temperature monitoring : Metabo electric power tools with the word>>Signal<< in the type designation have a temperature sensor fitted within the motor windings. If the temperature of the windings should approach the maximum permissible value, a light signal flashes to give warning of impending overload.
Metabo Safety clutch : This is used to protect against sudden reverse torque which can occur, for example, if the tool being used the machine jams or if the saw blade strikes a nail or similar in the work piece when sawing.
Metabo >>Marathon<< motor : the Marathon motor's special winding protection & epoxy resin powder coating on the field coil make it absolutely insensitive to the otherwise destructive effects of grinding dust. The metabo winding protection grid offers additional protection against the abrasive effects of such dust and grit.
Power Control System : Sanding scratches normally caused by applying the running tool on the working material can be avoided thanks to the integrated backing pad brake, and time-consuming refinishing work to remove such scratches in no longer necessary. These is ideal when sanding very thin materials (e.g. Veneers) and sensitive surfaces.
Orbital saw-blade movement : The orbital saw-blade movement on general purposes saws, sabre saws, and jig saws has three convincing advantages :

It works faster because the sawdust and chips are cleared from the cutting line more quickly
The work is easier, more convenient, and safer because less force needs to be applied
The saw-blades have a longer working life because they are lifted off the work piece on each non-cutting stroke, thus reducing unnecessary friction
To enquire about the desired product(s), just check the box and then click "Inquiry Now" button which is provided below.